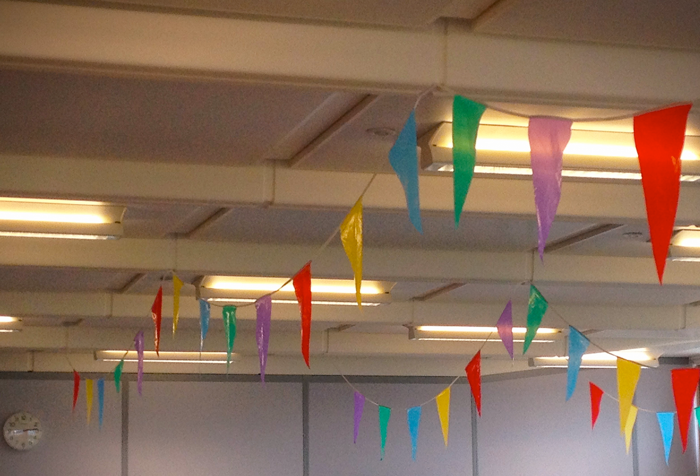 Some thoughts about having fun at work.
Last week I had a good time speaking at a Glug event in Reading.
For those that haven't heard of Glug it's a meet up for local creative communities. The format is informal with talks about design and creativity.
It's always good to spend time with people from other industries and sectors. The Glug meet up was especially great because it's part of an emerging start up community in the Thames Valley.
What stuck me was how much fun people are having.
People like Pip Jamieson from the Dots who spoke about her journey building a better career network for creative talent. And Christina Ohanian who spoke about being more creative with the spaces we work in.
It's easy to forget that creativity and fun at work go together.
It feels like the more seriously we take things the more ridged or unimaginative our work can become.
Events like Glug are an environment where it's okay to have fun, and it's okay to make mistakes and talk about failure.
To pick up again on Pip Jamieson's talk I loved this quote:
Life is short work somewhere awesome
Awesome places to work are fun. For me, working somewhere awesome doesn't mean the work isn't hard or the scale of the problem has to be small.
Most of the people that have come to work with us in government join because of the scale of the challenge. They want to work on things that mean something. Stuff that matters.
Making it fun
We should be able to make the problem solving process fun.
Something I've noticed with 'important' work is the bigger the problem, or initiative to deliver change, then the less fun we seem to have solving the problem.
In lots of organisations serious and difficult doesn't equal fun, not in the slightest. But what if this stops us doing our best work?
Let's try that the other way around.
The bigger the problem the more open, relaxed, and creative we should try to be as a team.
The bigger the problem the more fun we need to have. The more motivation we need to keep coming to work.
Bringing our best selves to work
I think that we're our best selves when we trust the people around us enough to laugh together and enjoy the challenge of our work.
You can call that culture or something we need to be deliberate at shaping collectively.
Having fun doesn't mean we don't take the problem we're working on seriously, it just means we don't take ourselves too seriously.
In my experience, teams that enjoy their work deliver the best products because they have the best culture. They motivate themselves through the relationships they build with each other. They want to solve big problems together, and they celebrate success.
To counter this, fun without substance or real problem solving is what I would call 'wacky'. This has be engineered, and culture, at least the types of culture people will thrive in, is never engineered.
Enjoying the size of the problem
So, a suggestion. Let's try and enjoy the size of the problems we signed up to work on.
The challenge is to take work seriously enough to be creative with spaces, relationships, and the diversity of opinions in the room.
That's what makes it worth working together.
Let's have more fun.
This is my blog where I've been writing for 18 years. You can follow all of my posts by subscribing to this RSS feed. You can also find me on Bluesky, less frequently now on X (formally Twitter), and on LinkedIn.