Way back in my end of year reflections for 2019 I said it was an ambition to write a book. Obviously the world then changed rapidly a few months later in 2020 and this was the last thing on my mind as we all lived and worked through the Covid-19 pandemic. I haven't even managed end of year reflections since 2019 as just getting through each year has felt like enough. I'll come to the book announcement, but first some reflections about how my work and job has changed leading up to this.
Goodbye FutureGov and hello TPXimpact
I'm writing this almost 2 years to the day since FutureGov's then management team (which I was part of) took the decision to close our London office as the pandemic hit – I took the train home early that day and didn't return to London again until last October.
During this time FutureGov has changed. We joined the Panoply group in June 2019, and since then we have been increasingly working as part of a growing group of companies. Original FutureGov CEO Dominic Campbell also left the company at the end of 2020.
We're now in the process of becoming TPXimpact – bringing together all of our teams under one new brand, and as a larger organisation focussed on digital transformation.
I've been relatively comfortable with this change since it was announced last year. In reality FutureGov has been distinctly different companies at different points since I joined in August 2017 – moving from a small agency of around 35 people, to a much more established agency of around 100+ over the first few years, and then as part of publicly listed group with increasing ambition and growth targets to meet. For me, the new brand simply brings together all of our work – design, technology and change in a simpler and more understandable way that should benefit the organisations we work with. It should also help us to operate programmes of work at a much larger scale if that's what is needed.
Practically, I was appointed Chief Designer for the new company back in November and I'm now continuing my work as part of our leadership team (all be it in a company closer to something like 700 people). We have already formed new design and research teams continuing our work reasonably seamlessly. Any transition and change programme is hard (and I've been through company acquisitions from both sides, as well as rebrands on a number of occasions now), but as an organisation that supports our clients through challenging programmes of work, it's also something I think we should be prepared to work through ourselves. As I tell the teams I lead and work with – change is always what you make it, and I'm excited about the opportunity we now have to shape a new company in how we operate and grow sustainably, as well as shaping how we deliver future work.
Writing a book for TPXimpact
Aside from the company transition, the big thing I've been focusing on for the past 6 months is writing a book for TPXimpact. I'm pleased to say that the book has been launched this week. If you had noticed a lack of blog posts and posting on this site during this time then this is why!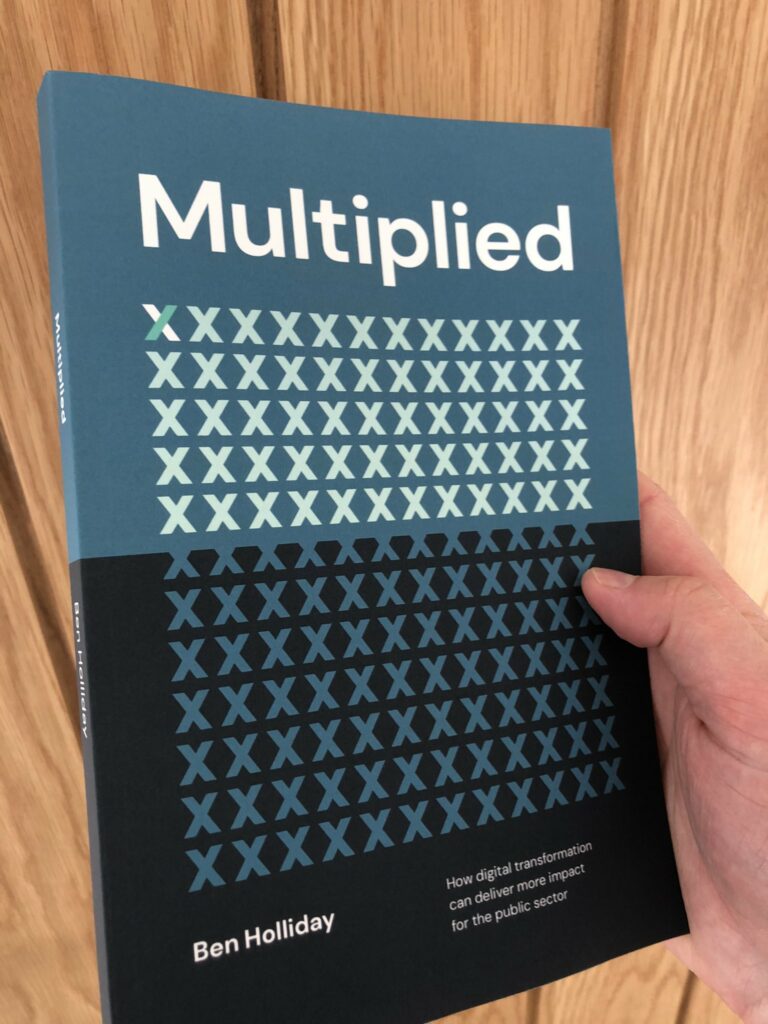 Why a book for TPXimpact? As my end of year notes from 2019 show, I never planned to write a company book at any stage – my ambition was always to write a book about design, probably revisiting many of my most popular blog posts from over the past decade. But instead this felt like a unique opportunity. There was the intention from Neal Gandhi (now TPXimpact CEO) and others in the Panoply group to tell the story of our work over the course of the pandemic, as well as to set out a bold new ambition for the future of digital transformation. Not just design, technology, or change, but bringing all of these aspects of our work together. This was also an important chance to reflect on how the whole public sector had been supporting change and meeting urgent needs during the pandemic, as well as looking back on over a decade of investment in digital transformation in many of our public institutions. So this became the book.
I'm really happy to have my name on the book, but to be clear many contributors fed their ideas and work into this project. For me, it was a challenge of writing about design and change, but also writing seriously about how we can use technology and data as part of future digital transformation. I also wanted to make sure we incorporated other areas of our work like local citizen engagement. This last part is especially important to me. I always felt that FutureGov as an idea was important because of the commitment we had to building strong links back to communities, especially through a history of work in Local Government, and with links into health and social care, the third sector, and voluntary and community sectors. This is where we still see the importance of service design – linking government policy and the impact of our work back to how people really experience change in their lives.
Reflecting on the writing process, I've learnt a lot through finding the thread that brings all of this work together, along with learning from the skills and experience of all our contributors. While I don't think the book is exhaustive in what it covers, it does give a picture of work and the experience from across all of our new company.
Writing a book is hard and a team sport
Multiplied was far harder to write than I imagined it would be – it took hundreds of hours, and many late nights, as well as eating into my weekends and any spare time I could find from late summer until Christmas. The final version of the book is around 60,000 words long, but I'd estimate that I've probably written something closer to 150,000 words of drafts, rewrites and revisions in that time.
The book has a long list of thank yous and acknowledgments (which we deliberately put at the front and not at the back). But I want to say here that it was a team effort from myself, Sarah Finch (now TPXimpact Head of Content and Insights) and Rob Prevett (who managed the project and has since moved on from TPXimpact). We were a close team during this project, spending months collaborating on this, mostly remotely, and with hours of calls and time spent in google docs together. Sarah especially brought her experience as a brilliant technology writer and editor, which is why we've been able to get to such a high and consistent quality of writing overall.
Anyone who has ever worked with me knows that I value clear communication in design, and especially simplicity above everything else. I'm so pleased that we ended up with is a relatively concise book which covers a lot of topics, but also with really clear takeaways. Not afraid of a challenge, the intention is that all of the topics included are accessible to anyone doing public sector work – whether that might be learning about automation or AI for the first time, or technologists learning about organising models and what a design mindset can bring to their work.
Starting new conversations
I can say honestly that Multiplied is not the book many people reading this blog post might have expected me to write, but I think it's the start of the conversation that the public sector and its partners need to have – especially as we emerge from Covid-19 and start to think more seriously about future challenges and ways of working. The whole idea of Multiplied is that more is possible, and that much more is needed as we continue to respond to change… I still believe digital transformation is a way of meeting future challenges and needs, but just as long as we approach this as the need for culture change as much as technology change in our organisations.
I now know that first orders are being placed and people are starting to read the book. This is equally exciting and makes me nervous – but I'm proud to have been part of making this a real thing and putting these ideas out into the world.
There is also now the chance to explore key themes in the book more, and it's encouraging that I'm already being asked to speak at events about the book, especially as things open up and were all able to meet in person more again. I also want to take the opportunity to start blogging more again with the opportunity to explore ideas further.
All profits from the book are going to the NHS. I hope if you've taken the time to read my work before, or benefitted from blog posts I've shared, then you will take the time to read this as well. I would love to know what you think and feel free to get in contact directly – let's at least start new conversations this year. Despite all the progress and investment of the previous decade, digital transformation has a long way to go in the public sector, so I definitely believe it's still the right time to keep going!
---
You can read more about the themes of the book in this TPXimpact blog post and you can buy the book on Amazon here. There will be book launch events coming up in March-April (in person and online) which I'll share more about soon.
This is my blog where I've been writing for 18 years. You can follow all of my posts by subscribing to this RSS feed. You can also find me on Bluesky, less frequently now on X (formally Twitter), and on LinkedIn.