It's been a few weeks now since Multiplied was released and the response has been really positive so far. With the backing of TPXimpact behind the book we were able to send out preview copies which people have been sharing pictures of as they've arrived this week. It's also been really encouraging that people are buying the book already – a quick reminder that all profits go to the Association of NHS Charities if you do want to purchase a copy.
Multiplied is now available on Amazon (with next day delivery) and is also available via a number of other places online, including Waterstones.
A return to speaking

The book landing has also coincided with a number of speaking opportunities. First up was a virtual speaking session for Digital Leaders: Public Sector Insights Week – you can register to watch this talk back online. This was the first time I'd taken any of the book material out to present in this format. It turned out to be a big challenge deciding which examples to include. If you watch the talk back, you can tell I had far too much material for an hour-long session and had to rush towards the end. That aside, feedback was positive afterwards and it has allowed me to work on the materials and slides more to get the talk working at a comfortable pace between 40-50 minutes.

Building on the virtual Digital Leaders talk, the best thing about the past few weeks was then the opportunity to return to in person speaking.

TPXimpact are currently the delivery partner for the Leading in a Digital World programme, which is part of the Scottish Digital Academy. Lee Dunn (Head of the Scottish Digital Academy) has just published a write up of the first 2 days of this cohort which seems to have been really well received. I was asked to be a keynote speaker for day 1 in Edinburgh and really enjoyed this session being it was my first in person talk in over 2 years. Following the keynote I also delivered a Digital Maturity mapping session (workshop). This was based on previous workshop materials and approaches we had used over the past 4 years at FutureGov (now part of TPXimpact). It turned out to be a really useful exercise updating our digital maturity materials inline with some of the themes covered in Multiplied – this is something I now need to blog about and share along with our latest templates. Along with the talk, the maturity session seemed to spark some really great conversations with those in the room – many of whom were senior technology and digital leaders from across Scottish Government and NHS Scotland.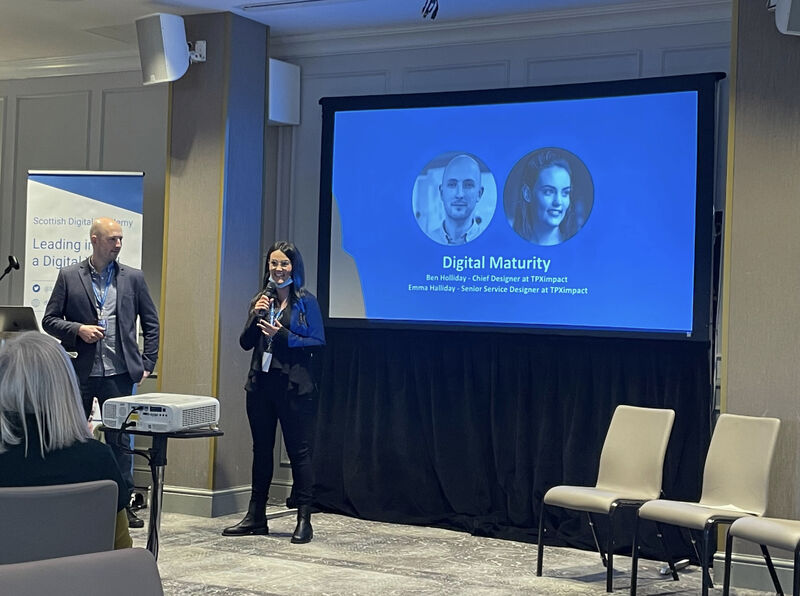 What the Edinburgh sessions did make me realise is that I'm now talking much more broadly about design with these latest materials – very much looking at design through more of a data and technology lens. This is reflective of some of the themes of the book, but I'm enjoying feeling increasingly confident in these areas, and also based on all the research and learning I did when writing the book.
Since Edinburgh I've given a further 2 in person talks. Firstly, on Tuesday this week I spent the day with some of our team and the HM Land Registry design and research communities of practice in Bristol – we were at Watershed which is a lovely venue, and the meeting space upstairs reminded me of ODI Leeds.
TPXimpact have been the User Centred Design partners with HM Land Registry for nearly 2 years now, but this was the first time we've been able bring every one together in person. It was fantastic to keynote again, and this time I tailored my talk more to this particular audience, but still with the big challenge for us as a design community – to be invested in how technology and data can help us deliver more impact through our work. A big thanks to Laura Yarrow (Head of Design) and Zaffreen Akhtar (Head of User Research) for letting our team be part of such a great day. I genuinely think there's something very special about bringing together communities of practice in this way – Tuesday reminded me of some of the original DWP Digital design meet ups we ran going back 5 or 6 years now. They also had great stickers.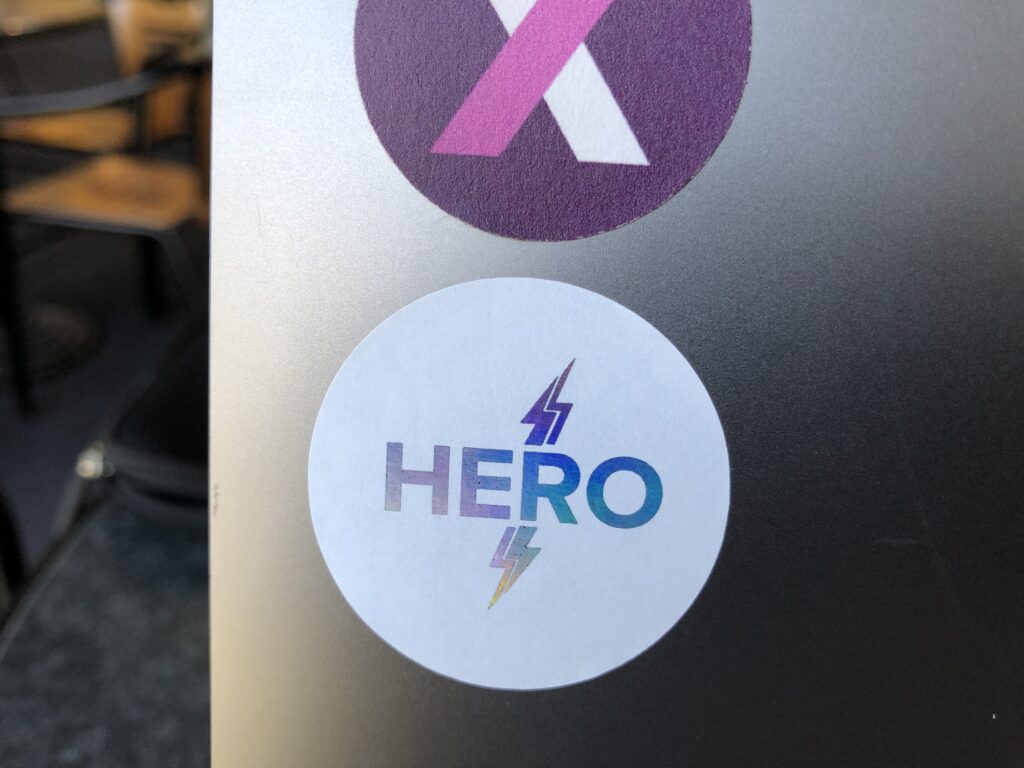 And finally, yesterday (Thursday), I was back in London – Canary Wharf this time, to speak at a Cabinet Office away day organised by Debbie Blanchard (Lead Product Manager in CDIO). Again, some really great responses to the book themes and follow up questions in the Q&A from what was most definitely a more technical audience than earlier in the week.

On both occasions this week it's been great seeing teams and communities across government departments start to come together again in person in this way – Covid permitting for now. I already have some more internal things lined up to support, but if you would like me to come speak about the book at your team's event I'd be more than happy to chat, so please feel free to get in touch.

A virtual book launch and future speaking

The next event I'll be speaking at is open to everyone… TPXimpact are hosting an official virtual book launch event on Wednesday 6th April*. You can sign up here to join me at this session. It will be a brief introduction to the book from me and then a Q&A session. If you're reading the book or want to ask about any of the topics or themes then this is your chance. Feel free to send any questions in advance as well and we will try to include as many as we can – Eva O'Brien from TPXimpact has stepped in to compare and host, so it should be a fun session to be part of.

And finally, later in the year I'm now officially confirmed to speak at Agile on the Beach (7-8th July 2022), which is in a fantastic location down in Cornwall by the coast. Maybe I'll see you there in person as well?–
---
*Update 31st March – This post has been updated to reflect the change in date of the Multiplied virtual book launch event (we had to reschedule after I needed time off to recover from Covid this week).
This is my blog where I've been writing for 18 years. You can follow all of my posts by subscribing to this RSS feed. You can also find me on Bluesky, less frequently now on X (formally Twitter), and on LinkedIn.